Engineering Alterraun Verner
April 13th, 2015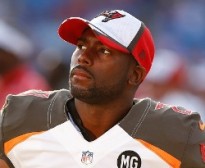 The guy who types like a madman at Buccaneers.com, Joe Kania, has pumped out a long Q&A with Tampa Bay starting cornerback Alterraun Verner.
You can view it here.
There's not much ground-shaking info, but one nugget stands out. It illustrates Joe's previous contention that Verner might be the smartest guy in the locker room.
Q: Some off-the-field questions. If you weren't playing football, what do you think you would be doing?
A: "I think I could see myself being a teacher and a coach. I could see myself, if I knew for sure that the NFL wasn't going to happen, being some type of engineer or something to do with building and mathematics too."
Verner actually returned to UCLA after his rookie season with the Tennessee Titans to complete his mathematics degree.
What's interesting there is that he lived in the dorms and got to know then-17-year-old Bryce Petty, the UCLA quarterback who might be a first-round pick later this month. Petty was an early entry into the university.
Speaking on WDAE-AM 620 last week, Verner relayed a story of how he overheard Petty in the dorms turn down a springtime party offer from some ladies because he wanted to study his playbook. Verner was saying Petty is just that kind of guy.
That got Joe thinking about how the Bucs talking to everyone and anyone connected to Jameis Winston and are hoping to hear the same kinds of things from ex-neighbors, bible camp counselors, laundromat workers, and more.