The Mysterious O-Line Priority
April 29th, 2015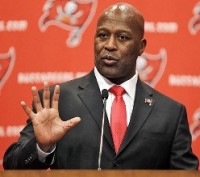 Thank goodness nobody asked Joe to wager on whether the Bucs would add an offensive lineman before the NFL Draft.
Joe would have lost big money betting on Tampa Bay to have at least signed one body, such as a second- or third-wave-of-free-agency veteran for depth.
But the Bucs did nothing, other than sniff a few bodies, such as "The Wiz" and barbecue-friendly Dan Connolly.
So after dumping Anthony Collins and Oneil Cousins, two guys who logged a load of O-line snaps last year, the Bucs have backed themselves into a corner. They have to draft multiple offensive linemen this week.
But what's the priority?
Joe feels compelled to resurrect Sean Payton's discussion of "the most important piece of property in football." You're welcome to click-through. Basically, Payton talks about how the interior line providing a "clean climb in the pocket" is the key. It flies in the face of conventional discussion of how a strong left tackle is priority No. 1.
Will the Bucs agree with Payton and look for a nasty guard or elite-talent center after grabbing Jameis Winston? Or will they do everything in their power to get the best left tackle prospect available?
This is one reason Joe really likes manbeast Ereck Flowers out of the University of Miami, the guy has the size and nasty edge to play tackle or guard. Joe just hopes the Bucs have the coaching talent to get the most out of their O-line talent haul in this week.
Joe is skeptical of offensive line coach George Warhop. (Who wouldn't be after last season?) Lovie Smith has never crafted a great O-line in his career, so that's a concern, too.