Ring Of Dishonor
April 20th, 2015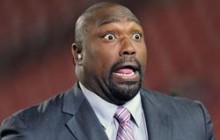 It's a tale of hookers, cash, inconspicuous police video and a Buccaneers icon.
TMZ.com has a new story out on Warren Sapp's Super Bowl arrest, and they've procured the video of Sapp in a police interrogation room in Arizona.
Man, Joe hopes to never be found in this situation.
Sapp has been invisible since his arrest and subsequent firing from NFL Network. Joe was going to ask Gerald McCoy today about Sapp, McCoy's mentor, but decided to pass.
Joe wishes Sapp well.