Jason Licht Says He Needs A Beer
April 20th, 2015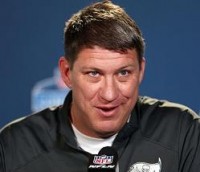 How fitting it was that Joe asked Bucs general manager Jason Licht a question today about his pre-draft approach, and Licht's reply included that he needs a beer.
Gotta love the GM. Man of the people.
Joe asked Licht whether he evaluated prospects differently this offseason versus last. Licht explained that this year the Bucs got more hands-on.
"I will say this; this year we worked out a heck of a lot more players at private workouts than we did in years past. I mean a lot more, really amped that up with our coaches and our scouting department," Licht said. "They did a great job. They're tired. They need a beer just as much as I do."
Sadly, there was no time for a follow-up question. Joe wonders why the Bucs wanted to get more in-your-face with players. Perhaps they felt they missed something with guys they picked — or didn't pick — last year.
Mr. Licht, Joe will be happy to buy you that beer. But why stop at just one?