New Bucs DE George Johnson In Impressive Group
April 15th, 2015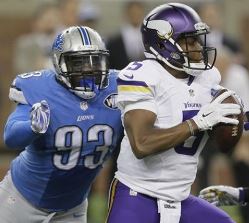 If you were deemed a useless pass rusher by former Tampa Bay commander Greg Schiano, like George Johnson was, then there's a damn good shot you have a bright future in the NFL.
Schiano's track record of rejects and misreads, in just two seasons, was astounding.
In his clutches, Schiano had George Selvie, Michael Bennett, Wallace Gilberry and Chris Jones. But Schiano told them all to leave town. All went on to big seasons and major contributions to good winning football teams.
Selvie quickly had a seven-sack season in Dallas in 2013. Gilberry had 14 sacks through 2012 and 2013 for the Bengals. Jones has 23 starts for the Patriots through the past two seasons and owns a Super Bowl ring. And we all know the Bennett story, one that still haunts the Bucs today.
Freshly acquired by Tampa Bay today, Johnson, a former Rutgers Schiano-man of all things, was on the Buccaneers roster when Schiano arrived. And he hung around for the 2012 Schiano season, but the Bucs cut him loose.
Last year, Johnson had his breakthrough campaign, six sacks in a rotational role for the Lions, the first six sacks of his career. The Bucs will now pay him $3 million for 2015.
Joe likes Johnson's odds, just for being a Schiano reject.
On the flip side, Schiano was convinced Da'Quan Bowers was a double-digit sacks guy, and he was thoroughly aroused by former starting DE Daniel Te'o-Nesheim. Both are under 30 and unemployed.