Lions & Bucs Will Trade For DE George Johnson
April 15th, 2015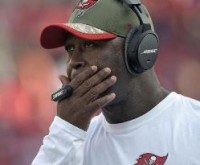 The Bucs tried to add a lively, young emerging pass rusher, Lions restricted free agent George Johnson (no relation to ghostly, ghastly Michael Johnson), but Tampa Bay was quashed Monday by Detroit, via some sort of annoying technicality appealed to the NFL.
But now it seems the paperwork will be torn up and the Bucs and Lions will execute a trade for the defensive end, per Rick Stroud of the Tampa Bay Times. He took to Twitter to share the news this morning. Per Stroud, the Bucs and Lions will swap late-round picks (no details) and Johnson will be a Buccaneer.
Joe's not doing jumping jacks, but this is a great move for the Bucs. Johnson was a successful rotational edge rusher last year (six sacks) who came on late in the season. Tampa Bay is desperate for live, young bodies at the position. Johnson is at least that.
The Bucs can use Johnson to team with Jacquies Smith, T.J. Fatinikun, Larry English and Lawrence Sidbury, the four top defensive ends Lovie identified to Joe at the NFL Owners Meetings last month.
How much Johnson might earn is unclear. The Bucs' initial restricted-free-agent offer to him was $3 million per season.
The Bucs have done everything they could to beef up the RDE position before the draft. In March, Tampa Bay was in hot pursuit of Trent Cole and put significant guaranteed money on the table, but Cole opted for the Colts. The Bucs even soiled themselves courting Greg Hardy and oily super agent Drew Rosenhaus.
And then came the surprise Johnson offer.
It sure smells like Tampa Bay doesn't want to be forced to draft a defensive end in the draft. So it can load up on offensive linemen to preserve Jameis Winston.