"Most Investigated Player in NFL History"
April 10th, 2015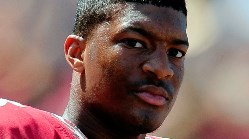 Bucs fans concerned that Jameis Winston's past off-field hiccups may bubble up again after if the Bucs draft him are not out of line.
Neither are antsy NFL clubs.
Good guy Mike Freeman, of BleacherReport.com, who is about as well-connected as any NFL columnist, typed a feature on the investigation of Jameis Winston and how thorough it has been by both the NFL and the Bucs. In short, Freeman got an unnamed Tampa Bay executive to suggest Winston has been the "most investigated player in NFL history."
In short, Winston has been tailed virtually every waking minute of his life the past few months.
At various times this past season, people used by various NFL teams—a combination of team security officials, league security officials and in some cases area scouts—have followed Winston across the Florida State campus and other places.

Security officials and scouts have followed Winston after practices, around campus and even when Winston has traveled to visit friends and relatives off campus, according to numerous team officials familiar with the spying on Winston.
Freeman spoke with non-Bucs officials, including former Bucs rock star general manager Mark Dominik, and found that NFL teams are paranoid about recent off-field developments from both current and former NFL players. In short, the NFL wanted to make sure Winston was not another Aaron Hernandez, Ray Rice or Darren Sharper.
Despite the mountains of evidence collected by both the NFL and individual teams, Freeman documents, some teams remained too spooked by Winston and removed him from their draft boards.