Jameis Watch: Investigating Jameis
April 22nd, 2015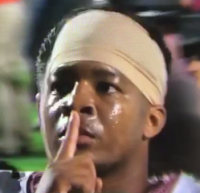 Crab-legs-stealing, BB-gun-shooting, obscenity-hollering, Heisman-Trophy-winning, former national champion James Winston, the pride of Florida State University, continues to look like a much better quarterback prospect than Mike Glennon and Josh McCown.
It's Joe's daily nugget on the Jameis Watch, celebrating the best quarterback to wear No. 5 ever in the state of Florida.
Joe chortled when he saw the freakout by way, way, way too many otherwise intelligent people. Just because the woman who claimed Jameis Winston got too handsy with her one night filed a civil suit against Winston, these folks claimed he was suddenly too hot of a property to draft.
Only those with a rank agenda or living under a rock the past few months didn't see the suit coming. The Bucs, who may have been equally amused at the overblown reaction, stated flatly this would not change their draft plans in any way shape or form.
For those who can't imagine why this wouldn't change the plans of the Bucs, Joe will let a practicing attorney explain. That attorney is the creator, curator and overall guru of Pro Football Talk, the great Mike Florio, in this NBC Sports video.