"It Wasn't Fair To The Guys In The Room"
April 10th, 2015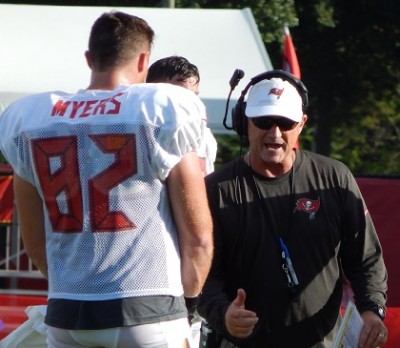 One Tampa Bay Buccaneer opened up today about the absence of former offensive coordinator Jeff Tedford and the rise of his ousted assistant, ill-suited playcaller Marcus Arroyo.
Buccaneers tight end Brandon Myers joined the Ronnie and TKras show on WDAE-AM 620 and asserted the Bucs' offense was a mess.
"A frustrating situation. You know, I've been around a few years, and to see what was going on, you know, it just wasn't fair to the guys in the room who, you know, are putting everything on the line," Myers said. "We just didn't really have a lot of direction. I think guys at the top will say the same thing. It was just an unfortunate situation. I think with the new OC [Dirk Koetter] coming in, we have a lot of positives. His track record speaks for [itself]."
Jiminy Christmas! Myers almost sounded like the Bucs were putting players in danger because the offense was a runaway train missing a wheel.
Hearing this troubles Joe because it makes no sense why Lovie Smith didn't step in personally and right the offensive ship, or hire a consultant to come in, such has Kevin Gilbride, to dive in for a few weeks and help direct the Bucs' offensive staff.
Oh, well. Old news. Myers went on to say he's already talked to Koetter, who Myers called excited and very eager.
You can hear all of Myers' takes below, via the 620wdae.com audio player.