Is Jameis Winston Ignoring Derrick Brooks?
April 15th, 2015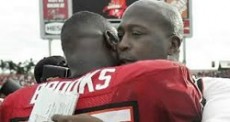 It's not all love and hugs and kisses for Jameis Winston at the JoeBucsFan.com world headquarters.
Joe has spent plenty of time scrutinizing the young man likely to start at quarterback for Tampa Bay when the preseason kicks off in four short months in Minnesota.
So Joe must ask the question, Is Winston ignoring the advice and wisdom of the Buccaneers' great sage, Mr. Derrick Brooks?
Consider what Brooks, who has been a mentor of Winston, told WDAE-AM 620 in March.
"We've obviously been talking for quite a bit," Brooks said of his communication with Winston. "I can't just some all this up into one word and into one sentence. So I try to take it situation by situation [with Winston.] Lately, I've been talking to him about focusing on making himself the best draft prospect," Brooks said.

"Don't worry about trying to impress everybody with who you are as a man, because that's going to take time. But the things you can control is your performance. Right now, the next opportunity you have to perform will be at Florida State's [pro day], and then the individual workouts that a team may bring you in. Focus in on that.

"Secondly, stay invisible, which he's done a good job of that. Not on social media, not out in the public, just stay invisible, just try to make yourself the best draft prospect you can."
Joe sees ESPN.com followed Winston for many weeks to write a long feature story that appeared today. Winston jumped back on social media after a hiatus, and he was doing seemingly every interview possible at the Florida State pro day. Winston also was at the Pinellas beaches last weekend frolicking at swanky events with ex-Buccaneers and others.
None of that feels like Winston heeded Brooks' call to "just stay invisible" before the draft.
Joe has no problem with Winston's activities, none at all. But it's a small red flag if Winston isn't going to take the words of Brooks as gospel.
Yes, Brooks possibly blessed Winston's specific activities Joe referenced, but Joe must call the cards visible on the table.