Banking On George Warhop
April 15th, 2015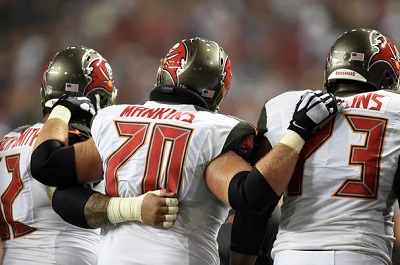 If Joe ran the Buccaneers, the team would have added an A-list team of offensive line coaches and/or consultants this offseason.
Instead, the Bucs will return O-line coach George Warhop and his newcomer assistant Butch Barry, fresh out of Central Michigan University.
Man, Lovie Smith is a loyal, confident cat. Warhop's unit last year was a train wreck.
Three veterans likely had their worst years in the NFL, Anthony Collins, Logan Mankins and Evan Dietrich-Smith. The unit never jelled and, frankly, got worse as the season wore on. But Lovie evaluated all aspects of team performance and is sticking with Warhop.
Especially intriguing is it sure smells like the Bucs will draft two or three rookie offensive linemen and push a couple of them to start on opening day. Warhop isn't just returning, he's got hopes and dreams and careers in his hands — including protecting the Buccaneers' next franchise quarterback from NFL slaughter.
Warhop arrived in Tampa after five seasons with the Browns, whose offensive line seemed to improve without him last year. Or perhaps Cleveland only improved without Oneil Cousins and Garrett Gilkey, who found their way to the Bucs via, um, someone's recommendation.
Prior to that, Warhop spent four years with the 49ers, and two years with the Cowboys. His NFL career dates back to 1996.
A warm ray of hope in Joe's mind is comes from Warhop spending those two season in Dallas under legendary Bill Parcells. The Tuna wouldn't hire a dead fish, right?
Regardless, the Bucs are banking on Warhop in a huge way. Lovie is no offensive line guru. It's been a career struggle for him. Hopefully, Lovie has changed course and made the right O-line call.