Inside The Mind Of Jameis Winston
April 2nd, 2015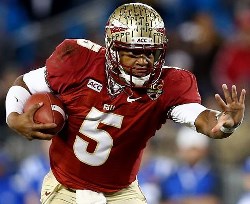 A lot has been made of Jameis Winston's football IQ.
Joe had heard from an scout back back in January that Winston was a "football mensch." At the NFL Scouting Combine reports had many NFL staffs were won over by Winston's ability to break down plays.
But how can the average NFL fan know about Winston's mind? Take this sneak peek from "Gruden's QB Camp," hosted by none other than Chucky. The former Bucs Super Bowl-winning coach is rather impressed when Winston details how he set up a touchdown pass reading the Notre Dame defense, and by calling blocking adjustments at the line.
You can view it yourself from the BSPN video below.