Casting Call
April 12th, 2015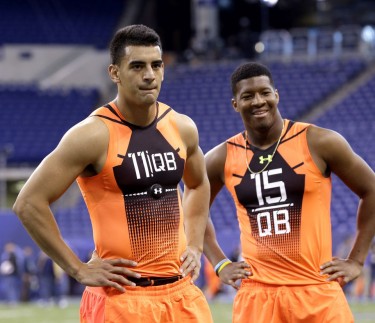 Marcus Mariota and Jameis Winston are such darn impressive quarterback prospects, per Donovan McNabb, both can be among the NFL elite provided they are blessed with certain things.
McNabb, now a top NFL analyst on FOX Sports 1 and a host on NBC Sports Radio, hopped on the Ron and Ian show on WDAE-AM 620 to talk about all kinds of topics.
A Winston-first guy, McNabb was pressed to say what it will take for Winston and Mariota to be great.
"For both quarterbacks, it all depends on the supporting cast. You know, if he's with a coach that's going to be there throughout the duration of his time in the NFL and with that team, then he can have the success of any of these top quarterbacks," McNabb said. "If the guys around him continue to develop around Jameis, like he has Vincent Jackson, like he's got obviously [Mike Evans,] and some of the tight ends that he has, they gotta build an offensive line for him and a run game. That's for both quarterbacks.

"If we're looking at quarterbacks with interchangeable receivers and offensive line [struggles], they're not going to have a good career. And they'll probably end up being on another team in about three or four years."
Some sobering reality from McNabb there. Yes, Winston or Mariota will look like garbage if they get a new offensive coordinator every couple of years, a steady diet of 3rd-and-long, and have receivers that resemble the Rams' corps during this decade.
Think about what Josh Freeman did for the Bucs in his second season at 22 years old, 25 touchdowns and six interceptions. Freeman, in his second season under Greg Olsen, had a punishing running game for the final two-thirds of the season, an above-average offensive line, a reliable and active tight end he trusted, plus a No. 1 receiver who lit up the NFL like Mike Evans did last year.
Stability and balance can work wonders for any QB as talented as Winston and Mariota.
Listen to all of McNabb via the 620wdae.com audio player below.