A Humble Winston Emerges
April 12th, 2015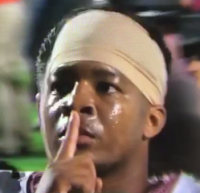 Jameis Winston, likely the next Buccaneers' quarterback, may be one of the most brash and cocky guys to enter the NFL Draft since Deion Sanders.
Winston's talking about Super Bowls in his rookie season and, among other things, he graded his Pro Day as "A++" to a national TV audience.
Joe loves all of Winston's confidence and swagger. Hopefully, he can handle the inevitable tough times.
But Winston does have a humble side. And it appeared during his time on Gruden's QB Camp on BSPN.
Chucky was grilling Winston on his 2014 interceptions, drilling through game film and forcing Winston to completely acknowledge that he forced too many balls to Florida State wide receiver Rashad Green. A big part of Chucky's lesson was that NFL safeties are going to identify his tendencies and exploit them.
Winston's entire demeanor changed. His body took on a humble posture. His voice tone lowered. And his face looked like a that of a ninth-grade honors math wiz who just got a C on a test and realized he had much to learn before he could ace the final exam.
Joe was glad to see Winston had that in him. It bodes well for the rough lessons of the NFL.