Building The Offensive Line
April 24th, 2015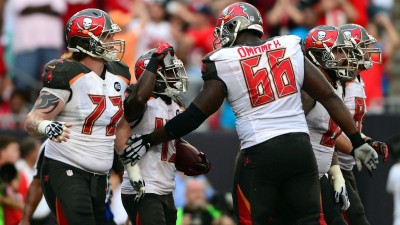 If one suggested the Bucs had the worst offensive line in the NFL last year, Joe wouldn't argue. The lone decent guy was right tackle Demar Dotson, who led the NFL in penalties at the position.
One certainly could tear apart the team for not (yet) upgrading the line in free agency with a rookie quarterback coming in (it's hard to believe there were no free agent linemen looking for work who couldn't have helped the Bucs). But Joe would be floored if the Bucs didn't draft at least one offensive lineman. How could they not?
The middle rounds of the draft are supposed to have great value for offensive linemen this year, and Joe would lay cash the Bucs draft at least two.
How rotten was the Bucs' offensive line last year? Aaron Schatz of FootballOutsiders.com, by way of BSPN, offeres gory details.
Quiet need: Offensive line — A quiet need in comparison to the need for a quarterback, in much the same way that the annoying guy who's talking your ear off on an airplane is "quiet" in comparison to a crying baby in the row behind you. The Bucs were dead last a year ago in adjusted line yards, a Football Outsiders metric that measures run blocking early in runs, and 29th in adjusted sack rate. They also led the league with 58 penalties (including declined/offsetting) from offensive linemen.
Joe knows the following rankles folks at One Buc Palace but here is hoping they are too busy studying linemen in the draft to notice: Anthony Collins was a whiff. He's gone. Logan Mankins may be over the hill, and Joe won't even mention how not having a barbecue grill cost him. And, no, Joe is just not sold on Evan Dietrich-Smith. Always beware of inexpensive players who Packers yoda Ted Thompson no longer wants.
And Joe is not sleeping well with the thought of Dotson moving to left tackle at the ripe age of 29.