An Eli Manning-Drew Bledsoe Comparison
April 3rd, 2015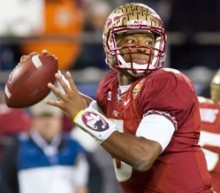 A guy who coached Eli Manning and Drew Bledsoe thinks about those stud quarterbacks when he watches Jameis Winston.
Joe is talking about longtime offensive guru Kevin Gilbride, now retired after many years calling plays for Manning in New York.
Gilbride voiced plenty of pros and cons on Winston after his Tuesday pro day in Tallahassee.
"The things that I kind of expected to see, the strength, the size, even the leadership the way he handled his teammate were all positive, all good things," Gilbride said on NBC Sports Network, via NJ.com. "I don't think the accuracy necessarily was the greatest accuracy I've ever seen. The things that would have caused me to pause a little bit, those 5 to 10 yard throws, those swing passes to the back, those throws that have to be so perfect so that the player that catches it can do something with it after he catches it, were not nearly as accurate as he needs to be on a consistent basis."

Gilbride also said that Winston could improve his footwork in the pocket, and that he has "a little bit of a pitcher's motion," and will need to quicken his release at the professional level.

"What bothered me a little bit was when he moved, broke the pocket, he looked very awkward, very uncomfortable, which I was very surprised," Gilbride said.
He went on to say Winston is "kind of in between" Manning and Bledsoe, citing an arm like Manning's but accuracy that does not yet compare.
Obviously, those QBs, both No. 1 overall picks, had excellent careers. People forget Bledsoe made four Pro Bowls and went to the Super Bowl leading a pass-happy team.
Bucs fans would be giddy if Winston was as good as either one of those guys.
As for Winston's shaky passes out of the backfield Gilbride referenced, that should be easily fixable with coaching and repetition. That will be an important part of the Bucs offense, especially if the offensive line returns to its train wreck form of 2014.