Why The Bucs Watched
March 11th, 2015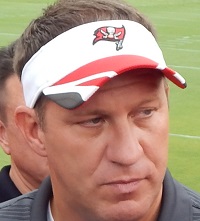 The sun came up yesterday and the sun set. Yet the Bucs' roster was virtually unchanged.
Oh, on the very day the free agency dinner bell rang, virtually every team made a transaction, or so it seemed. Teams signed players. Teams traded players.
In other words, most NFL teams tried to better themselves. Well, so did the Bucs. They cut Anthony Collins.
Other than re-signing their own and handing Collins a couple of empty boxes to clear out his locker for good, and losing an aggressive bid for defensive end Trent Cole, the Bucs did nothing. This perplexed veteran sports columnist Gary Shelton, who wondered aloud what the Bucs were doing on his site, GarySheltonSports.com.
Last year was a shopping spree for the Bucs. Grab a guy here, grab a guy there. Everyone was impressed, and every thought the Bucs had won the off-season. … Until it was proven they had hired guys with two left feet.

This year? Either the Bucs were more particular in their targets — who didn't love the idea of playing for them — or they didn't bid. So the question is this: If last year worked better, would the Bucs have been more willing to spend this year?

Otherwise, how do you explain that one of the worst teams in the NFL sat out the opening day of free agency? After all, few teams needed more help than the Bucs, who won just two games and had a worst offense than an unplugged pinball machine. Yet, for the first day at least, the Bucs didn't see anyone who could help.
Several things are at work here. First, players often either want to get paid or want to win. Getting both is a bonus. (See Trent Cole). The Bucs were the worst team in the league last year, not just one of the worst. The worst. Add in uncertainty at quarterback, and it might take a boatload of zeros from a Team Glazer check, or one helluva sales pitch from Bucs general manager Jason Licht, to lure a big-time free agent.
But Shelton sort of touched on another valid reason for the Bucs' spectating. You can thank Josh McCown and ghostly Michael Johnson and Collins, three of Tampa Bay's top four free agents last spring. They were/are colossal busts.
So who could blame Licht for being a little picky.