Why Are Bucs Looking At DeMarco Murray?
March 10th, 2015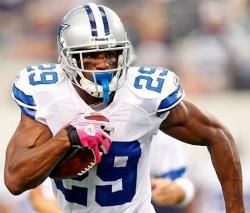 Joe is not big on spending high draft picks or big money on running backs.
History reveals running backs just get the hell beat out of them and teams can be just as fortunate finding decent running backs later in the draft, or even off the street, rather than breaking the bank in free agency or with a first-round pick.
Apparently, per the fingers of Woody Cummings of The Tampa Tribune, Bucs overlord of football operations Lovie Smith isn't in that camp. Cummings explains why the Bucs are more than a little interested in Demarco Murray, 27.
First, Bucs coach Lovie Smith is a bit old-fashioned in that he likes to run the ball more than throw it, and Murray would certainly help the Bucs achieve that objective.

Second, the Bucs are almost certain to start the season with a young quarterback under center, perhaps even a rookie such as Florida State's Jameis Winston.

If that's the case, the Bucs will want to do their best to take pressure off the quarterback, and the best way to do that is to develop a sound running attack. Finally, the Bucs still aren't quite sure what they have in Martin, who had a couple of nice games late last season but hasn't consistently played to his Pro Bowl form in three years.
For reasons Joe cannot figure out, Lovie soured on Bobby Rainey. Yeah, he had dropsies early, but he never fumbled after September. Martin was hurt early in the year, as he told Joe after the final game of the season. When he was healthy, he was a far different running back.
Mike James currently resides in the penthouse of Lovie's doghouse. And, sorry, Charles Sims did not impress Joe last year.
Joe understands a running back is needed to take heat off of Jameis Winston, but with all the holes on the Bucs roster, running back, especially with the Bucs' depth, is not a position Joe would make a priority to fill today.