Jameis Watch: "Greatest Smokescreen Ever Seen?"
March 10th, 2015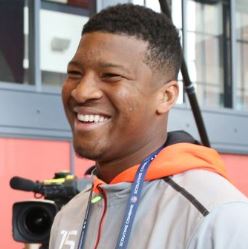 Crab-legs-stealing, BB-gun-shooting, obscenity-hollering, Heisman-Trophy-winning, former national champion Jameis Winston, the pride of Florida State University, continues to look like a much better quarterback prospect than Mike Glennon and Josh McCown.
It's Joe's daily nugget on the Jameis Watch, celebrating the best quarterback ever to wear No. 5 in the state of Florida.
So are the Buccaneers all-in for Jameis Winston? There's a long way to go, but veteran Tampa Tribune NFL scribe eye-RAH! Kaufman seems to think the deal is almost in the bag.
Kaufman hopped on NBC Sports Radio yesterday to share his views on Winston mania.
"This is either the greatest smokescreen ever seen in these parts going into an NFL Draft, or they're really very close to making a decision [for] Winston. I think it's the latter," Kaufman said. "You got the first pick. There's no reason for all this gamesmanship. Their own website even has video of Winston visiting One Buc Place.

"They usually don't do that kind of stuff. I think they're trying to gauge a little bit of public reaction to them taking Winston. I think it's almost basically a done deal at this point."
Kaufman went on to say he believes there will be a little "pushback" from fans because of Winston's "checkered past," but Kaufman said quarterback hunger — and wins hunger — should silence any of that.
Joe disagrees with Kaufman a bit. Joe's confident Bucs fans will see the same Buccaneers.com coverage of Marcus Mariota visiting One Buc Palace, when he arrives next month.
The Bucs marketing team is just being smart. They're playing the hype. Heck, they've got a whole paid online campaign going promoting the mystery of who the team will pick with the No. 1 overall pick.
There's a long way to go. The Bucs may have won the Chase for Jameis, but his arrival isn't a slam dunk.