Who Tailed Jameis Winston?
March 31st, 2015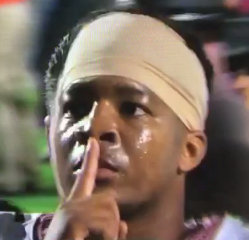 Really cool if not intriguing story just popped a few minutes ago on TheBigLead.com.
It seems, per NFL investigative reporter Charles Robinson of Yahoo! Sports, Winston's personal quarterback guru, George Whitfield, claimed an NFL team has been hiding in the bushes, in so many words, tailing Jameis Winston.
Per Robinson, by way of Joe's good friend Jason McIntyre, the sultan of TheBigLead.com, Winston was followed by a representative of an unknown team on one of his NFL Scouting Combine flights (it is not clear whether the fight was from San Diego to Indianapolis, or Indianapolis back to San Diego.) Whitfield has his quarterback boot camp based in San Diego.
Whitfield claims he learned of this when he an NFL team called him to tell him it was following Winston on a flight to see how he interacted with the public by himself.
Or maybe they wanted to know what kind of beer Winston drinks on a domestic flight?
Whitfield did not out the team that called him. Perhaps was it the Bucs?
Intrigue! Drama! Suspense!