Tuesday Free Agency, Open Thread
March 10th, 2015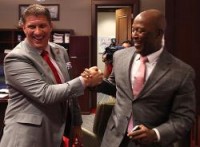 Joe will publish free-flowing rumors and nuggets of interest throughout the day right here.
Readers, of course, are encouraged to comment and bang their thoughts as the NFL free agency dinner bell approaches at 4 p.m. Will it be a Merry Christmas in March for Buccaneers fans?
Update: 3:35 p.m: NFL Network reports Saints are shopping Jimmy Graham.
Update: 2:19 p.m.: The Giants now have quite a deep backfield after locking up Shane Vereen.
Update: 1:50 p.m.: Left tackle Bryan Bulaga is giving Green Bay a hometown discount.
Update: 1:28 p.m.: Joe's good friend, "The Big Dog," Steve Duemig of WDAE-AM 620, tells Bucs fans pining for Trent Cole not to get depressed. Duemig Twittered that his impeccable source told him the Bucs are still in the running.
Update: 1:23 p.m.: Reliable Chicago Tribune reporter Brad Biggs says Bucs and Falcons are the hot pursuers for Chiefs safety Ron Parker. Don't know Parker? Here's a look.
Update: 1:14 p.m.: QB Brian Hoyer is only going to Houston for a visit, says Mike Florio on NBC Sports radio. It's no done deal. So maybe he could still serve as mentor-in-chief for Jameis Winston.
Update: 12:41 p.m.: Re-signed Bills defensive end Jerry Hughes, on NBC Sports Radio, says a coach's reputation among players means everything. Bodes well for Bucs and well-loved Lovie Smith.
Update: 12:32 p.m.: Per Alex Marvez of FOX and SiriusXM NFL Radio, Bryan Bulaga is just playing games in the market to leverage Green Bay.
Update: 12:31 p.m.: Per Ian Rapoport of the NFL Network said the Packers are expected to keep tackle Bryan Bulaga.
Update: 12:03 p.m.: Jets are bagging Seahawks starting guard James Carpenter for just $5 million a year. Great deal for a young talent with a nice resumé. Joe had a long chat with him during Super Bowl week.
Update: 11:53 a.m.: Ian Rapoport of NFL Network said the Packers are "working hard" to keep Bryan Bulaga, even going out of their "comfort zone." He said it is a "priority" for the Packers to lock up Bulaga.
Update: 10:25 a.m.: Per Ian Rapoport of the NFL Network, if the Cowboys don't call DeMarcus Murray by 4 p.m., he's going to talk to the Bucs.
Update: 10:20 a.m.: DeMarco Murray on the Bucs' watch list?
Update: 9:52 a.m. Percy Harvin will be cut.
Update: 9:18 a.m. ESPN Cleveland projects DE Jabaal Sheard will be a Buccaneer.
Update: 9:07 a.m.: Milwaukee Journal-Sentinel claims left/right tackle Bryan Bulaga is seeking $7 to $8 million annually. Bulaga, a 2010 first-round pick, is only 25 years old.
Update: 8:55 a.m.: Jon Beason, a former Pro Bowler who might have been on the Bucs' radar to replace Mason Foster, took a pay cut to stay with the Giants.
Update: 8:50 a.m.: Bucs are taking cornerback Leonard Johnson and running back Bobby Rainey down to the wire. Both are restricted free agents and will be gone unless a deal is reached before 4 p.m.