Trent Cole Signs With Indianapolis
March 10th, 2015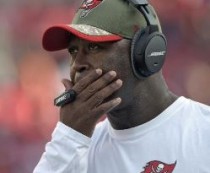 The Bucs lost a fish on the hook today.
Via Joe's friend Steve Duemig of WDAE-AM 620, defensive end Trent Cole and his 85.5 career sacks, have signed with the Bucs after Tampa Bay "put a totally aggressive and professional fight right to the end."
Joe has learned Cole has scored big money, upwards of $6 million per year on a long term contract.
The Bucs continue their search for an effective edge rusher.
Joe finds the Bucs' plan of attack here to be quite telling on the Michael Johnson front. Clearly, Cole would have replaced Johnson.
The Bucs are on the hook to Johnson for another $7 million on Thursday, if he's on the roster.