Top 30 Buccaneers Mysteries Of 2014 — No. 11
March 6th, 2015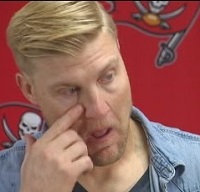 In many ways, Tampa Bay's 2014 season was more bizarre than the MRSA-infected, quarterback-gone-mental, Fire-Schiano-billboards campaign of 2013.
There were plenty of real Bucs mysteries last year, and Joe's revisiting the most interesting of the bunch.
No. 11 — The McCown Cry
Sorry in advance to the sensitive, politically-correct crowd, but what kind of NFL team leader weeps before the media after a meaningless loss?
Josh McCown, about 20 minutes after the Bucs lost 27-17 to the Falcons at home on Nov. 9, composed himself after reasonable locker room emotion, and walked to his postgame news conference.
There, in his first game back from a thumb injury, McCown started struggling for words and crying, repeating that the Bucs were now 1-8.
Some liked the emotion, but Joe left the news conference shaking his head. It wasn't even a close football game. The Bucs were trailing 27-17 with more than four minutes to play. The Bucs weren't exactly tossing away their Super Bowl chase.
Joe's wondering if McCown was crying, in part, for another reason. Perhaps he, like most right-minded individuals, realized the Bucs would be wise to turn back to youngster Mike Glennon and McCown's starting career would be over.
No. 12 — Counting To 12
No. 13 — Not Trading Up
No. 14 — The Glennon Clarification
No. 15 — No Help Wanted
No. 16 — Sticky Spot
No. 17 — Virgin Center
No. 18 — Investing In Seven Starts
No. 19 — Returner decisions
No. 20 — VJax's Wrist
No. 21 — Anti-Jell
No. 22 — Seferian-Jenkins Boasting About Penalized Pose
No. 23 — Never Moving Michael Johnson
No. 24 — "I didn't want to put more points on the board"
No. 25 — Glennon success without an offensive coordinator
No. 26 — Putrid Punting
No. 27 — Defending Three-step Drops
No. 28 — Eight Consecutive Red Zone Runs Versus Rams
No. 29 — Leaky Sean Glennon
No. 30 – Jorvorskie Lane