Three Thumbs Down On Winston
March 6th, 2015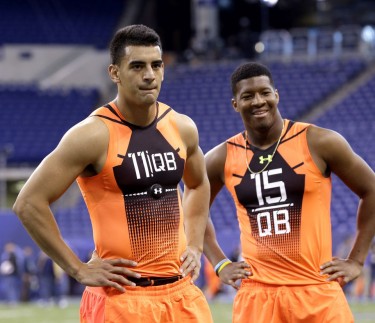 Joel Klatt, the former University of Colorado quarterback who now is a top NFL analyst for FOX, has been consistently a pro-Marcus-Mariota guy.
And now Klatt has cemented himself as anti-Winston.
Klatt did a bullet-point breakdown this week of why he wouldn't draft Winston, if he were Jason Licht or Bucs overlord of football operations Lovie Smith.
In a nutshell:
1) Decision-making on the field. ("Too many interceptions")
2) Decision-making off the field. (In the era of social media, "Your quarterback has to be rock-solid.")
3) Jimbo Fisher (His QBs, JaMarcus Russell, Matt Flynn, Christian Ponder and E.J. Manuel haven't been good NFL starters.)
Joe finds only the last point to be a very fair concern. Joe respects Klatt, so Joe's sharing the video below.