The "Mediocre" Class
March 20th, 2015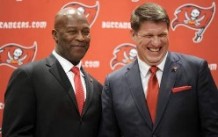 It was a bad year to have an ugly season and emerge with a pile of available salary cap money.
That was the word from one NFL executive.
Joe's talking about Giants owner John Mara, who wasn't a fan of this year's catalog of free agents, per the New York Post. Like the Bucs, Mara had cash to spend and didn't do much with it.
Heck, the Giants gave a three-year $10.5 million contract to Lovie Smith castoff Jonathan Casillas.
"There were obviously some star players out there, but for the most part I thought it was a mediocre free-agent class,'' Giants co-owner John Mara told reporters Thursday at the PAL's William J. Duncan Center in Manhattan. …"And I think a lot of guys got paid more money than maybe they would have in other years because there was a lot of cap room out there. I think the guys who we got will help us, but we still have a long way to go."
Perhaps this take from outside the streets of Tampa and the Gulf Coast beaches will soothe some Bucs fans.
No, this wasn't a standout year for free agents, (thought it will be for the teams who picked the right guys.)
The Bucs were in hot pursuit of Trent Cole to replace beastly pass rusher Michael Johnson, but lost that boardroom battle. It could prove to be a franchise-changer, if it affects decisions in the NFL Draft.