The Doubt In The Greg Hardy Case
March 17th, 2015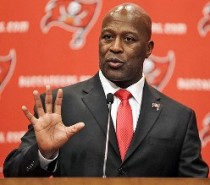 Joe understands why about 15 percent of Bucs fans think Tampa Bay shouldn't touch an alleged shady character guy like manbeast, free-agent defensive end Greg Hardy.
Bad dude, so move on, these fans say.
They don't want another Michael Pittman, Aqib Talib or Jerramy Stevens in town.
Joe's not knocking these fans, but is it so clear Hardy is a criminal? Before Hardy's 2014 misdemeanor assault and threatening charges against his former girlfriend, Hardy had no record. His conviction was tossed on appeal this year, after the alleged victim didn't show up.
Joe directs readers to this interesting Charlotte Observer story. Here's an excerpt:
But other details also raised unanswered questions about prosecutors' handling of the case. Hardy's defense team announced an appeal of his conviction before leaving court in July. But Murray said prosecutors only "recently" had compared what Holder told police the night of the alleged assault with her testimony at Hardy's first trial.

That's because prosecutors didn't have a trial transcript. Hardy's defense team did – attorney Chris Fialko hired a court reporter at Hardy's trial in District Court where transcripts are not normally prepared. According to court records, Fialko also fought the prosecution's request for a copy of the transcript in the weeks leading up to Hardy's trial this week.

Murray's office would not elaborate on what prosecutors found when they compared Holder's statements, but the district attorney said in court that with Holder unavailable, they "did not have sufficient legal basis" to enter her statements to police as evidence.

Several legal experts around town speculated that prosecutors spotted inconsistencies that prevented them from building their case around Holder's former accounts. To enter an unavailable witness's prior testimony and statements as evidence, prosecutors have "to vouch" for its truthfulness, said Charlotte defense attorney George Laughrun.

"If they're seeing something in the evidence that gives them pause, they may have been placed in a ethical dilemma where they don't want to vouch for their witness."
That's interesting stuff.
Joe's not lobbying for Hardy, but there is no reason for the Bucs to pass on investigating him thoroughly. There is no clear cut evidence Joe is aware of that slaps a guilty-dirtbag label on Hardy.