Winston Advised Of Stripper & "Questionable Girl" Rules
March 5th, 2015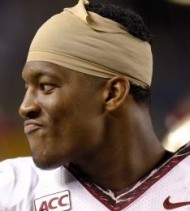 There are unwritten rules when you're the face of the franchise, which Jameis Winston is telling everyone he wants to be.
These rules, well, they go beyond the playbook.
Ex-Bucs guard Ian Beckles (1990-1996) is hearing all the big chatter from Winston and is firing back wisdom, via his big microphone at WDAE-AM 620.
Beckles is advising Winston to "say less," or learn very fast what it will take to succeed in a fish bowl.
"My problem is if you keep on talking about, 'I want to be the face of the franchise, face of the franchise.' That's fine. But in this day and age, in 2015, it's not like it used to be," Beckles said on the Ron and Ian show.

"If you're the face of the franchise, ok, this is what you can't do. You can't go to a strip club — at all. You can't go to a club and get drunk — at all. You can't take a picture with a questionable girl — at all. So watch what you want. You see what I'm saying. You can put yourself in that light, that's fine. But if you think you're not going to do anything wrong, I think he's going to mess up still.

"Watch out if you want to be the face. Ok. Watch out."
Let Joe pause for a moment. Joe's not sure how Beckles is defining a "questionable girl." Is that a dude in drag? Or is that a porn star? Joe will try to get a clarification.
As for all the "face of the franchise" talk from Winston, Joe has no problem with it. Eventually, his teammates will tell him to cool it until he accomplishes something. But the reality is once Winston is drafted, all that will matter is performance.
If he wins consistently, he's a beautiful face, and he can take selfies with all kinds of questionable women. If he flops, then he can go play minor league baseball in few years.
(You can enjoy Beckles' full rant below.)