Stop Crying About Derrick Morgan
March 13th, 2015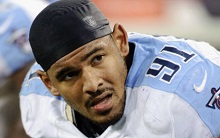 It's painfully clear how desperate Bucs fans are for an edge rusher.
Why? Because Joe hears Tampa Bay faithful crying about how Derrick Morgan didn't sign with the Bucs and stayed in Tennessee.
Forget that Morgan signed for a ridiculous windfall of about $7 million a year. Morgan has never had more than 6.5 sacks in a season during his four years as a full-time starter. He was not Greg Hardy the savior of the Bucs' edge rushing woes.
Morgan came to Tampa for a free agent visit, and kudos to Jason Licht and Lovie Smith for not signing that guy.
It was Derrick freakin' Morgan. Relax.