Chucky And Brett Hundley
March 13th, 2015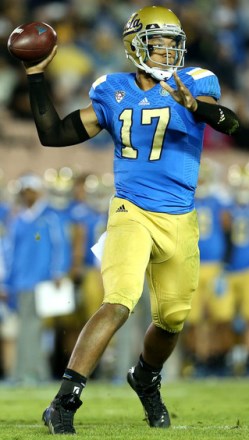 During the 2013 college football season, Joe thought Brett Hundley was the next best stud quarterback. After Jameis Winston, that is. Joe was really impressed.
However, Joe read a lot of former NFL personnel guys who were anything but fond of Hundley's skills, and that turned Joe off.
Now, with the 2015 draft eight weeks away, it's that time of the year when Bucs Super Bowl-winning coach Chucky sits down with the top quarterback prospects for a series of whiteboard and on-field quizzes.
Below, courtesy of BSPN, is a highlight of Chucky's session with Hundley.