Stefen Wisniewski And The Bucs
March 25th, 2015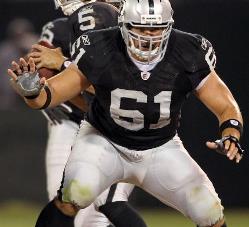 Not long after the free agency dinner bell rang, Raiders center/guard Stefen Wisniewski visited the Bucs to talk turkey and maybe a contract. Wisniewski left without a contract and headed to Seattle, which needs a center.
Wisniewski not only didn't sign with the Bucs, he didn't sign with the Seahawks and later after visiting the Bears, didn't sign with them either.
Yesterday, when Joe appeared with his good friend, "The Big Dog," Steve Duemig, on the weekly JoeBucsFan.com Hour heard exclusively on WDAE-AM 620, Joe speculated that either Wisniewski was asking for way too much cash, or there was something going on behind the scenes.
Turns out, it may be both. Per Brad Biggs of the Chicago Tribune, Wisniewski had shoulder surgery.
Wisniewski is recovering from shoulder surgery after last season when he played with a torn labrum. The former second-round pick of the Raiders has made visits to the Seahawks and Bucs, and the Rams and Chiefs are also known to be interested. No team has been willing to meet his request of $4 million per season and it could be he winds up on a one- or two-year prove-it contract. At this point, it would be a mistake to rule out the Bears.
Well now, that explains it all. First, his agent is trying to shake down teams for $4 million a year (Ha!) and the dude has a bum shoulder. No team is going to shell out that kind of cash unless they know for sure his shoulder is OK.
No wonder the Raiders passed on Wisniewski and signed free agent center Rodney Hudson.