"Let's Not Hold That 2-14 Against Any Of Us"
March 25th, 2015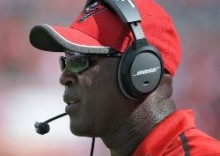 Poor Cleveland Browns fans. It's bad enough just to be a Browns fan, but now they're faced with Josh McCown likely leading their team on opening day.
In a fun exchange at the NFL Owners Meetings this morning, where Joe is live in Phoenix, a Browns beat writer asked Lovie Smith why Cleveland fans should look at McCown's 1-10 record as a starter last year and do anything but cringe.
Joe admits perking up in his chair and thinking, 'Man, this should be a good.'
Lovie Smith, looking very refreshed and fit before a plate of fresh fruit, didn't disappoint.
He acknowleged that McCown had a poor season and quarterbacks get too much credit and too much blame, and McCown has good play in him, as evidence by his 2013 season in Chicago.
The reporter followed up by asking Lovie whether he believes McCown is more the guy who succeeded in Chicago, versus the guy who failed in Tampa.
"Yes, I do," Lovie said "I also think that I'm more of the coach that went 10-6 my last year before this 2-14 season. Let's not hold that 2-14 against any of us is what I'm going to say. Yes, ma'am."
That answer sort of illustrated a lot of Lovie's thinking entering the 2015 season. The head coach told Joe today he has dumped mistakes, filled a giant hole in his coaching staff and is supremely confident in his abilities and in the attitude of the football team from top to bottom.
Yes, Lovie knows the Bucs were 2-14, but he doesn't feel like anything about himself, his staff or his plan reflects it.