Rebound With "Summer Of Lovie?"
March 23rd, 2015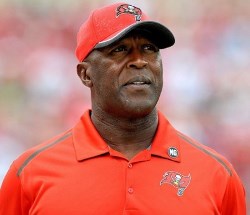 Many Bucs fans are still walking around in a daze like a guy on an all day bender who saw his final bar tab.
There was so much excitement in the Tampa Bay area last year when the large, vocal majority of fans were granted their wish for Lovie Smith. There was rejoicing in the streets.
Alas, not quite a year later, despair was everywhere. No one, not even Joe, not even a Bucs hater, could have envisioned how the Bucs bottomed out so badly. If there was a surprise in the NFL last season, Lovie leading a team to a victory lap in the Chase for Jameis was it.
Well, FoxSports.com believes Bucs fans are in for a treat and is offering 11 reasons why Tampa Bay will turn things around this season. Here is the first installment in the series:
Few people envisioned Lovie Smith's first season with Tama Bay playing out in such a disappointing fashion. The Buccaneers were a trendy pick to win the NFC South this past offseason due in large part to Smith's impressive credentials — three division titles, a conference championship and NFL coach of the Year award. The resume offers plenty of reasons to believe that one more summer of Lovie in Tampa Bay will get this team turned around.
Simply put, a comedy of errors doomed Lovie and the Bucs last season, all largely based on really, really bad talent evaluation. It began with the jettisoning of Darrelle Revis. Oh, the Bucs said, we can get many players for his salary. True. The problem was who .was purchased
Anthony Collins, Ghost Johnson and Josh McCown turned out to be a (roughly) $29 million collective mistake. They were just the beginning.
Yes, the Bucs can only improve. The first step is sharper player evaluation. It was almost like last year Lovie used his heart, not his head, on players he hoped would bring wins.