Passive-Aggressive Marcus Mariota?
March 16th, 2015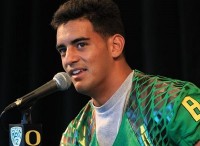 Yes, Oregon quarterback Marcus Mariota is in the building. Not your building. Not Joe's building. But One Buc Palace.
Mariota is going through the motions of his visit, meeting with general manager Jason Licht and, per pictures and video, offensive coordinator Dirk Koetter and quarterback coach Mike Bajakian.
In an interview with Buccaneers.com multimedia maven Scott Smith, Mariota had an interesting answer to possibly being drafted No. 1 overall by the Bucs.
"Being the first pick, to me it's not a huge thing," he said. "I'd love to play for the Bucs. With that being said, if you find the team that wants you, that's going to be the right team. I look forward to marketing myself and finding that team."
This is interesting in several ways. First, Mariota — you can see the video here clearly doesn't care if he is the No. 1 player in the draft (but twice said he'd love to play for the Bucs).
Winston all but drooled when asked the same question. Winston clearly wants that label.
Does Mariota know something we don't? Of is that just Mariota's care-free, laid-back Hawaiian demeanor?