"NEVER AGAIN!"
March 11th, 2015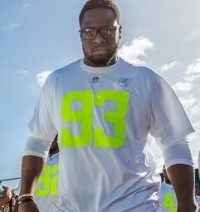 Literally minutes after ghostly and ghastly Michael Johnson was cut today by the Buccaneers, captain Gerald McCoy took to Twitter.
McCoy wasn't there to express regret for losing a comrade. No, McCoy had a message.
2-14 NEVER AGAIN!! It's wartime!! I don't care who we keep, bring in or draft, they better be ready… https://t.co/0USkyrFTEM

— Gerald McCoy (@Geraldini93) March 11, 2015
The link is to McCoy's Instagram page, where he had more words and a video from one of his private training sessions, apparently with strength and fitness guru Todd Durkin.
McCoy says he's ready to go for 2015 — to fight to get to the top.
Joe loves the timing of McCoy's message.