Market Rising For Glennon?
March 3rd, 2015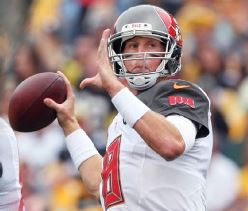 Less than a year after proclaiming Mike Glennon "quarterback of the future," Lovie Smith and the Bucs are about to hand-pick their new quarterback of the future with the No. 1 overall draft choice.
Yes, Jameis Winston is at One Buc Palace today, charming Bucs staffers and possibly also future teammates and Team Glazer. In all this talk, wither Glennon?
At the current moment, Glennon is the de facto starting Bucs quarterback. Benched twice by Lovie, Glennon could start 2015, as Marcus Mariota becomes familiar with an NFL offense, or step aside right away for Winston.
There is a vocal, albeit, misguided lot that believes the Bucs should trade down. Joe is pretty sure these same people have rotary dial phones and hand-write personal checks to the power company, and bow to their framed photo of Woody Hayes on the wall.
If the Bucs already had a quarterback, then trading down would be a no-brainer. The Bucs don't have a solid quarterback. So in a nod to these folks, Mark Maske of the Washington Post believes Glennon is the man to bring draft picks, not the No. 1 overall pick.
Why? Because teams are so deliriously desperate for a quarterback, Glennon's trade value is on the rise.
The Buccaneers, similarly, must decide whether to keep Glennon around or get what they can for him. He has played decently in his two NFL seasons with 29 touchdown passes, 15 interceptions and a passer rating of 83.7. The Buccaneers clearly will be turning things over to whichever prized young quarterback they draft. Do they need Glennon in the fold as a backup?
Look, if you don't have a quarterback, you are screwed. That simple. The Rams may have been one of the most talented teams in the NFL, but with China Bradford out (again), they watched the playoffs like you and me.
The Colts are OK, nothing more. But with Andrew Luck, they were one win from a Super Bowl.
So with teams dying for a signal-caller, and Glennon showing far more than Josh McCown, the Bucs might finagle a higher draft pick for him than what they spent to get him.