Free Agency Factors In Winston Visit
March 3rd, 2015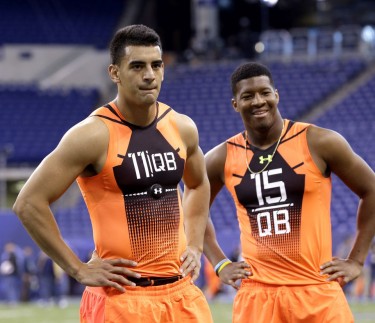 NFL Draft prospects can have private all-day visits with teams immediately after the NFL Scouting Combine. But it's rare to have a prospect come to a team in early March, like Jameis Winston is today.
The reason could be as simple as Team Glazer having free time to get it done this week, but Joe suspects the reasons run deeper.
First, Joe thinks Winston coming in first and so quickly is the clearest sign to date that the Bucs are extraordinarily high on him as a prospect.
The Bucs don't want their internal decision-making and investigating to lag. On the business front, the sooner Tampa Bay decides on a first-round pick, the sooner it can be prepared for the marketing rush that will follow the selection. A quick decision on Winston the person, aka if Team Glazer writes him off or blesses him this week, could be a factor for the Bucs in free agency.
The free agency dinner bell rings in seven days, and at last check, Jason Licht publicly was talking about the possibility of adding a veteran QB on the roster.
If the Bucs have clarity on Winston, then that could affect the veteran QB choice. The best fit for Winston might not be the ideal mesh with Marcus Mariota.
Joe's all for adding a veteran QB to mentor and maybe keep the seat warm for a rookie. That also would make Mike Glennon tradeable.
Joe is certain Winston's visit today has football layers to it. It's not just about a warm and formal introduction.