Lovie Predicts "Early Success" For Mariota & Winston
March 25th, 2015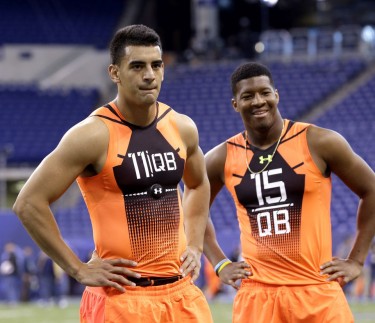 Lovie Smith took the Winston-Mariota debate to a new level this morning at the NFL Owners meetings.
As Joe wolfed down bagels and lox and bran muffins like a slob, Lovie sat before a colorful plate of fruit and talked about impact.
The Bucs head coach was clear he thinks both quarterbacks are not just good prospects, but players who will impress quickly.
"Both will have early success in the league and help their team win a lot of games," Lovie said. "When you talk about the top of the draft, you hope that would be the case."
Of course, Lovie's definition of "early" is unclear. However, during an early morning chat with Lovie before the breakfast session, Joe asked Lovie for his feelings about both quarterbacks being just 21 years old when opening day comes in September.
Lovie said age is not much of a factor in today's NFL.
"Just not right now, it's always been to me, it's the best guy plays right away, doesn't matter how young they are. It's a different athlete coming in now who's been through an awful lot that's more NFL-ready to play," Lovie said. "How young was Mike Evans? 20, a kid right? So these are old vets coming in compared to Mike. So I don't think that's an issue. They've had center stage where everything has been dissected and critiqued throughout their lives. So I think they can make a quick transition."
Joe gets what Lovie is saying, but rookies are still rookies, and the guys playing defense on the other side of the ball also are coming in more NFL-ready.
It will be a wild ride if Lovie drafts a quarterback and hands him the rock on the first day of training camp.