A New/Old Bucs Coach Is Coming To Tampa
March 25th, 2015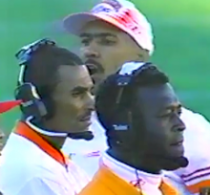 Lovie Smith turned to free agent defensive players who know his old-school, Tampa-2 system this offseason.
And he also might look to an old-school Tampa-2 coach.
Joe chatted today with former Bucs secondary coach (and former Jets and Chiefs head coach) Herm Edwards, who revealed that he spent time with Lovie on Monday and will be coming to Tampa for a full week at the start of training camp.
And no, Edwards isn't coming for some sort of fancy BSPN feature, Edwards will roam the sidelines, "observe closely" and be in the building, he said.
Joe asked Edwards whether he'll be helping coach up defensive backs. Edwards said he "might put on a coaching hat. You know, I get excited."
Joe will have more from Edwards in the coming days, specifically some excellent Xs and Os discussion.