Lovie On Jameis: "Nobody's Going To Outwork This Guy"
March 25th, 2015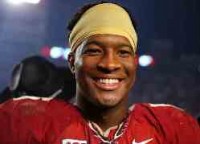 Joe's live at the NFL Owners meetings and chatting with Lovie Smith today.
And there is plenty of quarterbacks chatter to share.
One quick standout nugget on Jameis Winston from Lovie is him saying "nobody's going to outwork this guy."
That's a bold statement from the head coach, who has some very dedicated players.
For the Mariota Gang, Lovie scoffed at the notion that Marcus Mariota will have trouble adjusting to the NFL. Lovie emphasized that he's watched every throw of both quarterbacks and says Mariota can do what he needs to do to be successful.