Licht And Free Agents: "That's On Me"
March 24th, 2015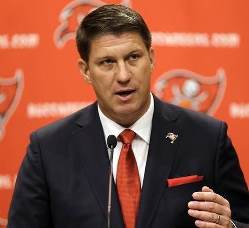 Yesterday, when collared by the "Custodian of Canton," eye-RAH! Kaufman of The Tampa Tribune while at the NFL Owners Meetings in Phoenix — Joe touched down in the Valley of the Sun last night! — general manager Jason Licht did the NFL equivalent of falling on his own sword, suggesting the Karlos Pena-like swings and misses in free agency were his doing.
"We've ripped off the 'Band-Aids' and we'll work feverishly to make sure we don't make the same mistakes twice," Licht said referring to the terrible troika of Anthony Collins, turnover-prone Josh McCown and Ghost Johnson. "That's on me.

"It's better to cut ties a year too early rather than a year too late. We want players who want to be Bucs and players that are hungry. Ownership couldn't be more supportive.''
Joe is just going to guess Team Glazer wasn't so supportive of seeing some $29 million out of their pockets washed away in roughly a year's time, but it's good to know Team Glazer was behind Licht cutting bait with the mistakes.
The thing that caught Joe's eye was Licht referring to hungry players wanting to be with Tampa Bay. Clearly, McCown tried his best. That's not debatable.
Collins and Ghost? Oh, that's very debatable. It actually springs to mind a certain Steve Miller song.