Jason Licht As Steven Wright
March 23rd, 2015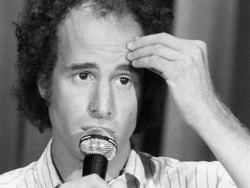 Never forget, when in doubt, Bucs general manager Jason Licht once worked for Bill Belicheat. The four-time Super Bowl-winning coach is notorious for his monotone, tight answers to questions.
They very often carry solid sarcasm and dry wit that scoots past most listeners.
Licht may not have the dry wit sarcasm down quite yet, but from the fingers of Rick Stroud of the Tampa Bay Times, Licht is doing his best to pull off a Belicheat-type press conference.
To wit (per Stroud):
*On the plans for Dashon Goldson: "Dashon Goldson is on this football team right now."

*On who he will pick in five weeks with the No. 1 overall pick: "Right now we are moving toward a consensus."

*On repairing the offensive line: "We know where our holes are and we know we still have the draft and there still are some free agents out there."
This is beautiful. Joe is still laughing. Now if Licht can just squeeze some sarcasm into those monotone, stale, empty quotes, he will have fully mastered his mentor, Belicheat.