Jameis Watch: Passing On Draft Night
March 16th, 2015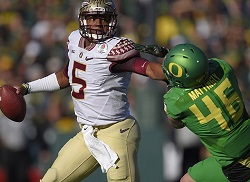 Crab-legs-stealing, BB-gun-shooting, obscenity-hollering, Heisman-Trophy-winning, former national champion Jameis Winston, the pride of Florida State University, continues to look like a much better quarterback prospect than Mike Glennon.
It's Joe's daily nugget on the Jameis Watch, celebrating the best quarterback ever to wear No. 5 in the state of Florida.
As of now, Jameis Winston plans to spend draft night at home with family and not attend the NFL's giant draft spectacle with Roger Goodell in Chicago, per esteemed NFL writer Peter King of Sports Illustrated and TheMMQB.com.
Winston might change his mind, but nobody can make him. Until he's drafted, he's not property of anyone except Jameis Winston.
Joe knows some fans will blast Winston for this, but Joe can't go there. Draft night might be the last time Winston is free of NFL rules and media demands. Once you're an NFL quarterback, you've got all kinds of mandatory media obligations. Why not chill on the couch with dad and loved ones?
Besides, if Winston is with family and friends in Alabama or Tallahassee, that's a much shorter trip for him to be at his new Tampa home the following morning.