Eyeing Akeem Ayers
March 6th, 2015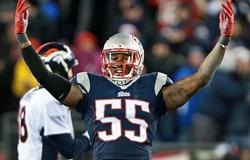 Newsflash: The Bucs' pass rush was to football what Rosie O'Donnell is to beauty.
Watching opposing quarterbacks clip their fingernails before throwing a pass made Joe want to toss his lunch just as much as when that thing O'Donnell accidentally happens upon Joe's TV screen (until Joe rapidly grabs the remote).
The Bucs must address this now. They've been almost as irresponsible as not having a decent quarterback.
Yesterday, Greg Bedard of theMMQB.com decided to break out his No. 2 pencil and see if he could figure out the best bargain free agent at each position.
For an edge rusher, Bedard believes Patriots outside linebacker Akeem Ayers is a helluva buy.
Edge rusher: Akeem Ayers, New England (Age 26)

Flashed early in his Titans career but got caught up in scheme/coaching changes. Showed enough after trade to Patriots that he can play smart as an edge player in just about any scheme with the right coaching staff.
Neither Lovie Smith nor defensive coordinator Leslie Frazier were able to work their magic on ghostly defensive end Michael Johnson. They may have finally gotten through to Da'Quan Bowers at the end of the season, but perhaps too late to do any good or save the kid.
Might Lovie and Leslie be able to get the most out of Ayers?