Don't Inhale
March 24th, 2015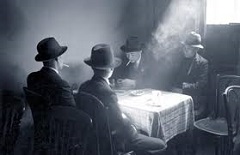 The owner of the No. 2 overall pick, Titans head coach Ken Whisenhunt, lit a giant metaphorical bong at the NFL Owners Meetings this morning in Phoenix.
Joe already shared Whisenhunt's early breakfast nugget, when he explained to Joe and other assembled media that Marcus Mariota did fantastic, impressive classroom work with the Titans during private meetings.
But when Joe was busy with other AFC coaches, Whisenhunt moved all-in on Mariota. USA Today writer Jim Corbett spelled it out on Twitter.
Ken Whisenhunt on Marcus Mariota: "If he comes to us at No. 2, he's definitely going to be the day 1 starter..I'm very impressed by Marcus."

— Jim Corbett (@ByJimCorbett) March 24, 2015
You might not want to inhale.
Sure, Whisenhunt could be telling the truth, but it sure smells like an over-the-top bonfire of smoke to prod teams thinking about trading up for Mariota. It's a great way to let them know he'll demand a big offer.
Or, as some have speculated, maybe Whisenhunt is somehow engaging in a twisted plot to get the Bucs leaning Mariota so they will draft him, and then the Titans can score the QB they really want, Jameis Winston.