Donald Penn Professes Love For Bucs
March 7th, 2015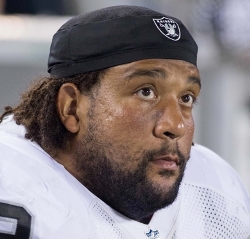 When a team finishes 2-14 and wins the Chase for Jameis, it's pretty clear a mistake or two (or eight) happened along the way. Otherwise, the team wouldn't reside in the NFL basement.
One mistake was giving up on left tackle Donald Penn for Anthony Collins.
The new regime of Bucs coach Lovie Smith believed the offensive line needed gutting. Not a sinister concept, so long as the guys you ran are replaced with better players. That's the trap that caught Lovie.
At first, Penn was livid at news he was released and thought he got crossed. Penn didn't stay bitter long. The California native hooked up with the team he grew up with, the Raiders, and turned in one of his best seasons in years.
Meanwhile, Collins has the U-Haul trucks backed up in his driveway, and Craters & Freighters on speed dial.
In a lengthy feature on SB Nation's SilverandBlackPride.com, Penn said he has nothing left in his heart for the Bucs except love, types Levi Damien.
"I'm always gonna love the Buccaneers," said Penn. "They were my first jam, my first opportunity. I played eight years there, eight years of my life there. Buccaneers will always have a place in my heart… I wish the Tampa Bay Buccaneers the best, I really do. I really hope they get to turn things around. I got a lot friends that still play there and I wish them luck. It's a great town, they got a great city, great fan base.

"But, you know what? With the way things happened, I couldn't have it any better way, man. I love being in Oakland. I grew up in LA, grew up cheering for them so what more could you ask for? I'm really truly blessed it happened this way and I live in LA, so it's like the perfect match. What would be even better is when we turn this thing around, being a part of the turnaround. I can't wait to do that. Being able to tell my kids about it when I get older and stuff like that."
Penn was one of Joe's favorite players. Always willing to talk and often with a unique, intelligent perspective. Oh, sure, he was angry at Joe at one time, thinking Joe was trying to Pearl Harbor leaky, sleepy Josh Freeman's career. We all know that was not true.
Penn may have looked the part of roughneck, but the guy really is a Teddy Bear at heart. The fact he speaks fondly of the Bucs, even after the Bucs dumped him out of the pirate ship, shows he's' a class act.