Bucs Cheerleaders Settle Lawsuit
March 7th, 2015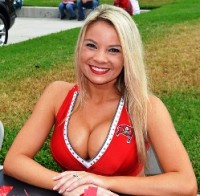 Joe loves the Buccaneers cheerleaders but doesn't write much about them because for some reason the team neither allows Joe exclusive locker room access to the ladies nor permits Joe to attend their dance practices.
And, for now, no Bucs cheerleaders invite Joe to go clubbing or to share sangria on St. Pete Beach.
That could change, and cheerleader compensation could, too.
The ladies just settled a lawsuit against the Buccaneers, reports TBO.com.
On Friday, it was announced the Bucs had agreed to settle the lawsuit by paying a maximum of $825,000 to set up a fund to reimburse cheerleaders for hours they said they were required to work but for which they weren't paid.
Based on Joe's reading of the lawsuit, a group of cheerleaders sought back wages, claiming in the suit they weren't being paid minimum wage for their required hours and the Bucs were paying them a flat rate of $100 per game. They claimed that wasn't enough when you factored in mandatory practices, community events, etc.
NFL teams in various cities have had similar conflicts with their cheerleaders.
Joe's not sure where he stands on this. The ladies do learn the pay and volunteer commitment up front and sign up to do it. So Joe's not sure how the women were fleeced. But Joe will trust the legal system and investigative process here, just as Joe does with Jameis Winston.