Derrick Morgan Would Fit Young Free Agent Goal
March 9th, 2015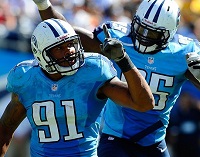 Titans free-agent-to-be starting defensive end Derrick Morgan just turned 26 and has 19 sacks over the last three years — three years in which he missed a total of just one game.
Ask an NFL general manager, and he'll tell you that a young free agent who can rush the passer is always in demand.
Per the Tampa Bay Times, the Bucs are sniffing Morgan heavily today. He led the Titans in sacks last season with 6.5 in a 3-4 defense, and The Tennesseean reporter Jim Wyatt speculated Morgan could command $4 million per year.
The former ACC Defensive Player of the Year at Georgia Tech, and a Titans' 2010 first-round pick, rushes from both sides of the defensive line.
Surely, the Bucs could use depth and talent when it comes to edge rushers. But Joe doesn't see Morgan as a guy the team would peg to replace ghostly and ghastly Michael Johnson.