Da'Quan Bowers May Stay
March 7th, 2015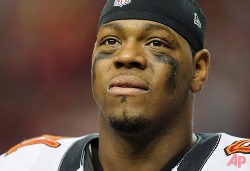 If one is to believe a sports yakker from Houston, the Da'Quan Bowers era in Tampa Bay may not be ending soon. No, really allegedly.
Jayson Braddock, a Houston-based voice from KBME-AM 790, Twittered that the Texans are hot and heavy for Bowers but the free agent defensive lineman is wanted by the Bucs.
Texans showing lots of interest in UFA DE DaQuan Bowers. Miami also has reached out. Tampa wants him to stay.

— Jayson Braddock (@JaysonBraddock) March 7, 2015
Color Joe skeptical that Bowers will stay. If you were Bowers, wouldn't you want to play for a winner for a change (Houston was 9-7 without a quarterback and without Jadeveon Clowney)? Plus, he would play along side J.J. Watt.
Given Bowers' history with the Bucs, general manager Jason Licht should be very conservative with whatever he might entice Bowers.
Hat tip BucsNation.com.