"Bucs Will Be A Player In Greg Hardy" Sweepstakes
March 12th, 2015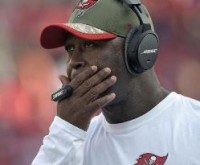 Justice was served when the Buccaneers cut ghastly and ghostly defensive end Michael Johnson yesterday.
That wise move spared Joe countless offseason hours of counseling and wearing a padded helmet.
Now what? The Bucs don't have a fierce edge rusher in the house.
And Lovie Smith comfortably admits his old school Tampa-2 defense needs a beast off the edge to flourish. That's why in Chicago, Lovie and friends made a panic, midseason trade to Tampa Bay for Gaines Adams. And five months later, the Bears coughed up gigantic money for Julius Peppers in free agency. (Six months after that, Lovie and Peppers were in the NFC Championship game.)
So what about Greg Hardy?
He's a monster edge rusher who turns 27 this summer. The only problem is he was found guilty of misdemeanor assault of his girlfriend in June. The wacky case then went to the requested jury trial, but the alleged victim could not be found and charges were dismissed.
"Prosecutors last spoke with the victim in October and November 2014," a written statement from the DA's office stated. "During those conversations, the victim expressed that she did not want to participate in another trial. The District Attorney's Office has not been able to reach the victim since November 2014."

He said said the state visited her home, employer and even put surveillance on a new home where she was believed to be living. Murray said it would not be just or appropriate to move the case forward without Holder.

In North Carolina, the state could continue without a domestic violence victim, but case would be much weaker. There were inconsistencies that troubled first judge in the July bench trial.

"We are committed to stopping domestic violence," Murray said. "But we also want victims to come forward and cooperate."
After Hardy had a sack and a forced fumble against the Bucs on opening day last year, Roger Goodell invoked some fancy bylaw and sat Hardy for the rest of 2014. His status is unclear, but it's clear he will return to the NFL sometime this year, and teams are allowed to sign Hardy right now.
Former Bucs defensive tackle Booger McFarland, of SiriuxXM NFL Radio, is convinced the Bucs will dive in for the man who was a dominant edge rusher in 2012 and 2013.
Johnson is gone #Bucs will be a player in Greg Hardy sweeps This defense doesn't work without pressure from front 4 MCCoy needs help

— Booger (@SECbooger) March 11, 2015
Joe's not sure what the Bucs will do. But Joe would advise Team Glazer and the front office to look at the JoeBucsFan.com poll above. Bucs fans want Hardy, so worrying about fan backlash should not be a consideration.