Blalock Bewilderment
March 23rd, 2015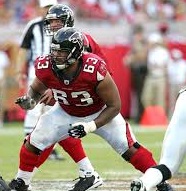 A guy who covered the Atlanta Falcons last year can't understand why the Buccaneers haven't at least intensely engaged former Falcons guard Justin Blalock.
Joe is talking about J.P. Peterson, who ditched his status as Tampa Bay multimedia czar and relocated to Atlanta during the summer of 2013. There he covered the Falcons and even worked on one of the team's fancy pre-/postgame shows.
But Peterson has bolted back to Tampa and the WDAE-AM 620 airwaves this week.
This morning, he was puzzled that the Bucs haven't moved on Blalock. Peterson claimed Blalock "graded out above average" last season and was a solid player. Joe knows the spreadsheet crowd agrees.
Blalock, 31, played left guard last season and throughout his eight seasons as an ironman offensive lineman. But that's the same position where barbecue-yearning Logan Mankins earns a massive paycheck.
The Bucs' disinterest in Blalock could be simple as that, as Lovie likes to say. Joe's unsure how versatile Blalock may be.
Blalock has visited several teams in free agency. He's a guy who made huge bucks the past four years and could be patiently waiting to get paid again.